What qEEG Findings Can Tell Us
A quantitative electroencephalogram (qEEG)  is the recording of electrical activity in the brain transmitted through electrodes on the scalp.
As part of the MeRTSM assessment procedure, we use the qEEG to map the brain activity and capture critical information about the brains function in conjunction with the electrocardiogram (ECG), which in turn, maps the activity of the heart.
By analysing the data in the qEEG/ECG a plan is developed that aims to bring back the brain to its optimal state of neural synchronisation.
Obtaining an EEG recording is painless and non-invasive. It takes around 45 minutes.
IDENTIFYING AND OPTIMISING BRAINWAVE ACTIVITY
An EEG scan will help us identify areas of the brain that may not be communicating the way they should and provide clues to how brainwave activity might contribute to behaviours being presented.
This includes brain activity that can contribute to anxiety, communications and sensory processing, excesses that could contribute to attention, focus and depression – to name but a few.
Below are various EEG interpretive images and insights: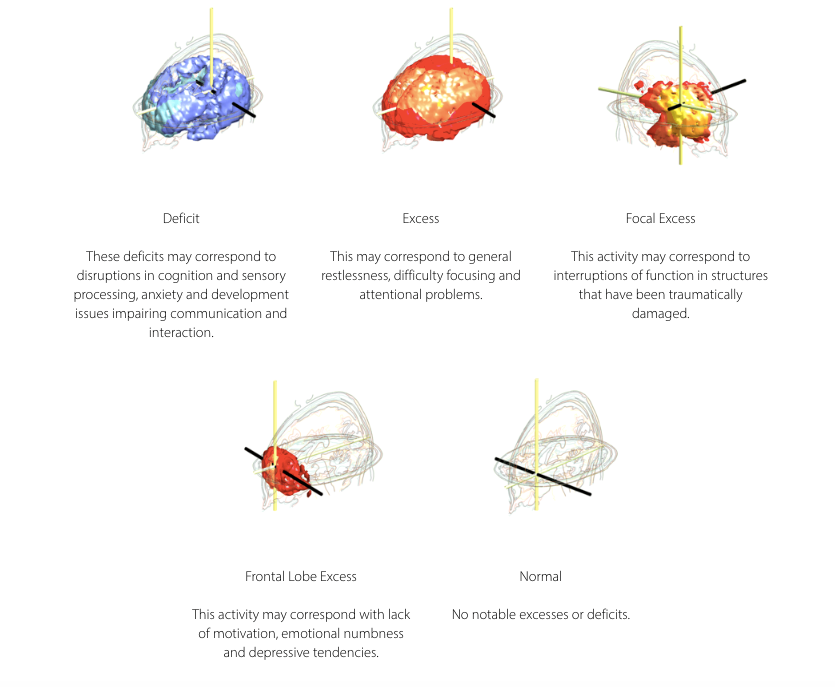 Learn more about the scientific literature reports aligning different EEGs to different neurological conditions HERE.